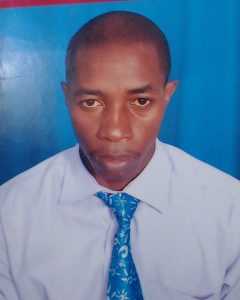 Name: Mr. Peter Kithimi Kinyua
Qualification: BSc. Information Science
Position: Registry Officer
Department: Human Resource
Short Biography:
Mr. Peter is an Information Scientist specializing in Records Management.
He holds a Bachelor's Degree in Information Science from Karatina University and a Diploma in Archives and Records Management from Kenya School of Professional Studies. He has attended various seminars and workshops in the area of records management including Electronic Document Management system (EDMS) conducted by RIMEA and Records Management workshop conducted by NIPK.
Mr. Peter started working in 2007 as a Registry Clerk at Kirinyaga Water and Sanitation Company and later moved to University of Embu as a Registry Officer in 2013.
He is a trained implementer and Auditor of ISO 9001:2015 and ISO 27001:2013. He was involved in setting up of both systems in the University and has participated in various Audits.