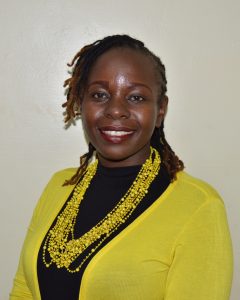 Name: Ms. Gladys Atambo
Qualification: Master of Business Administration (HR Major), Bachelor of Law
Position: Head, Human Resource
Department: Human Resource

Short Biography:
Gladys Atambo is an experienced Human Resources executive with a portfolio ranging from human capital management, policy formulation, strategic thinking/planning, succession planning and change management. She holds a Master of Business Administration (HR Major) from Catholic University of East Africa and a Bachelor's Degree in Law from Moi University and is a full member of the Institute of Human Resource Management (IHRM). She has a deep commitment to working in a collaborative, transparent and inclusive manner, which allows her serve as a link between the Management and the employees. She is a highly motivated and result driven individual, exceptional communicator with a consultative approach with experience in providing team effectiveness and leadership development.