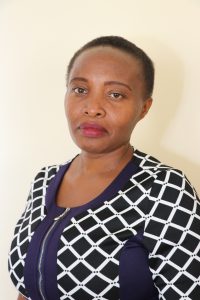 Name: Ms. Florence Karimi Njue
Qualification: Certificate
Position: Clerk
Department: Human Resource
Short Biography:
Florence Karimi Njue has been working at the University of Embu since 2013 and is currently a clerk in the Human Resource Department. She holds a Certificate in Archives and Records Management from Embu College. She is committed to providing administrative support to the Human Resource Department which keeps the office running smoothly and efficiently. She endeavours to provide excellent customer service to clients and above all teamwork.
Her responsibilities include but not limited to; maintaining files, managing office supplies inventories, handling inquiries and incoming work requests, typing documents and correspondence among others.